A powerful goal-setting and management system is what you're looking for?
Then, you should definitely try OKR (Objectives and Key Results).
Did you know? According to Forbes, highly engaged teams report a 21% more profitability, a 41% reduction in absenteeism, and a 59% decrease in employee turnover. OKR helps companies to create high-performing teams by perfecting the employees' alignment with the overall business goals, keeping them engaged, and creating an open and transparent culture.
OKR Software is catering to the business needs of organizations, which are looking for effective goal management systems across the globe.
What are OKRs?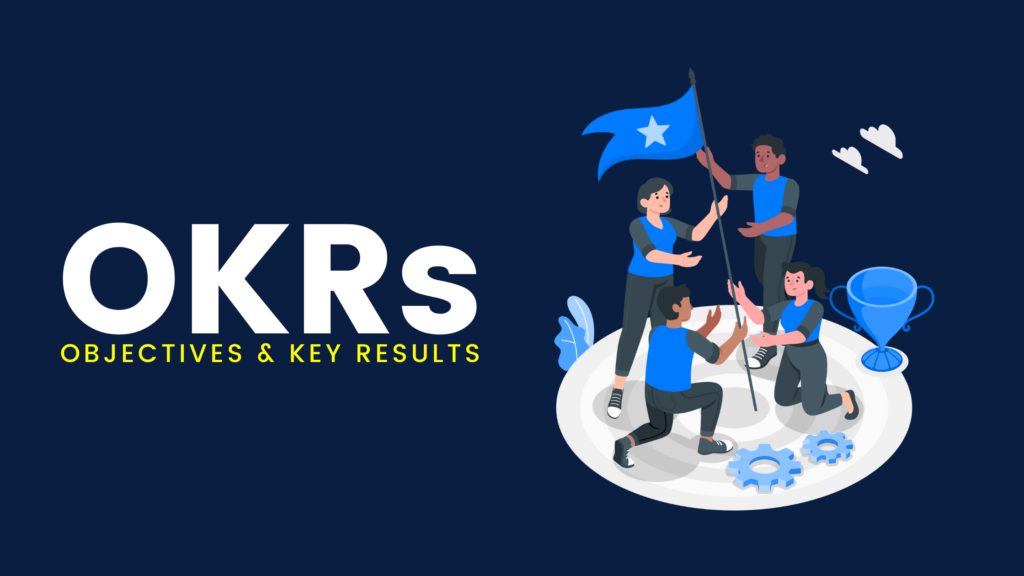 Objectives and Key Results (OKR) have been advocated by Andy Grove, Former CEO, Intel, as well as John Doerr, a venture capitalist. John Doerr was the one who introduced the concept to Google and Googlers have been following it to date because of its huge results.
Objectives are the goals of a business, be they stretched or ambitious yet attainable. OKRs help business leaders to reach their destination by making them stay committed to the ambition through key results. KRs are the steps taken to achieve the final goal set annually, half-yearly, or quarterly. OKRs can also be changed midway if a situation like the pandemic arises. 'Changing midway' implies that the corrections are immediately followed by the entire company, from top management to every individual.
A company should have only 3 objectives and 3 to 5 key results for each objective.
Things to Look in OKR Software
Setting OKRs and tracking the progress manually is a hectic task and the percentage of error in analyzing the data and reports is substantial. OKR tools developed by OKR companies address the pain points of the customers and help them thrive in the right direction without much hassle.
A robust OKR software should allow the employees to update their status to track progress, have effective internal communication, promote collaboration and teamwork, manage time efficiently, create meetings, and upload the plans and problems.
The OKR software should be able to perform all the above actions to satisfy the condition to be called Objectives and Key Results.
Here are some outstanding time-saving OKR software Companies for your consideration before making a purchase decision.
1. Fitbots OKRs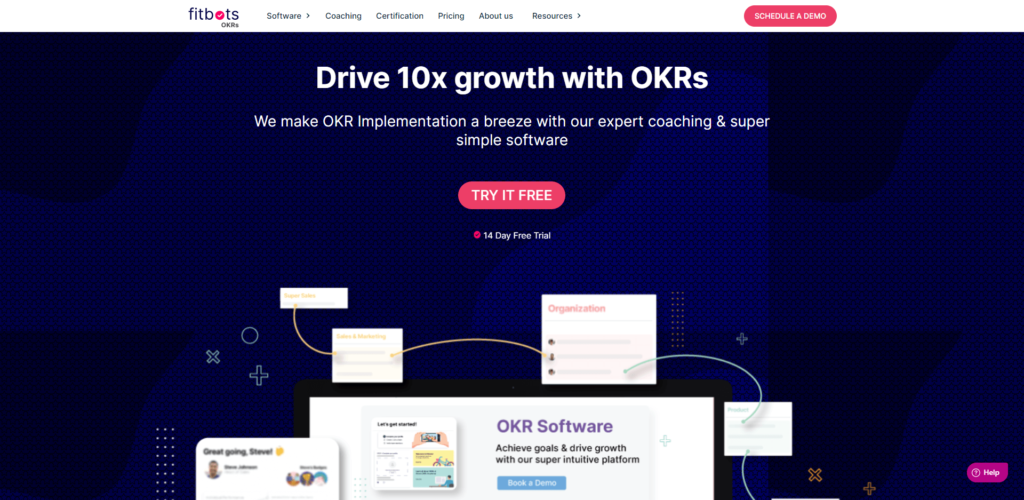 With Fitbots OKR, you can drive 10x growth. Fitbots super simple OKR software and one-to-one expert OKR coaching make the implementation process simpler. The intuitive OKR software helps companies achieve goals and drive growth by executing the strategy with agility. The company's OKR tool and a team of experts help you visualize the alignment of individual goals to business objectives, track performance, real-time insights, scale swiftly and also securely.
If you are a start-up yearning for speed, with Fitbots OKR, you can shift from outputs to outcomes. You can radically realign your teams and increase team engagement. Fitbots OKR is one of the best and strong OKR software in India and has been integrated with over 2000 work apps.
Founder: Vidya Santhanam and Kashi KS
Founded in: 2018
Pricing: Basic, $3 per user/month
2. Ally.io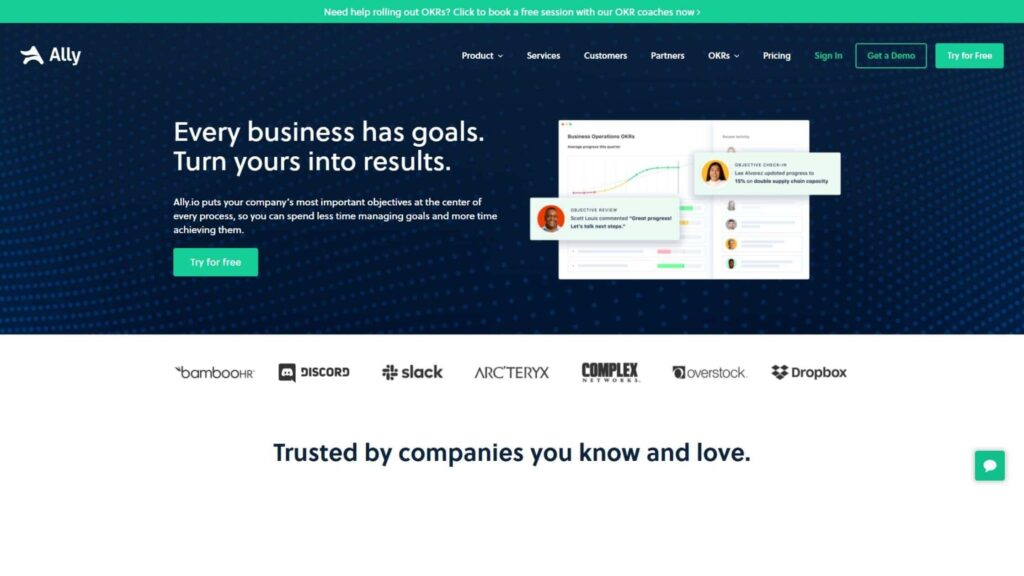 Ally.io is an easy setup OKR tool that comes with a free 14-day trial and OKR templates to help businesses create Objectives and Key Results without any struggle. Every initiative in Ally.io makes your team take one step forward toward their destination. They can effortlessly identify the key results that will not lead them to their goals. You can gain greater visibility and integrate projects from tools like Jira or Asana.
Ally.io drives collaboration and keeps the teams focused and engaged on the work that will achieve the outcomes. The team offers workshops, multi-month coaching engagements, and on-demand support to help organizations achieve their objectives faster.
Founder: Vetri Vellore
Founded in: 2018
Pricing: $7 per user/month
3. Weekdone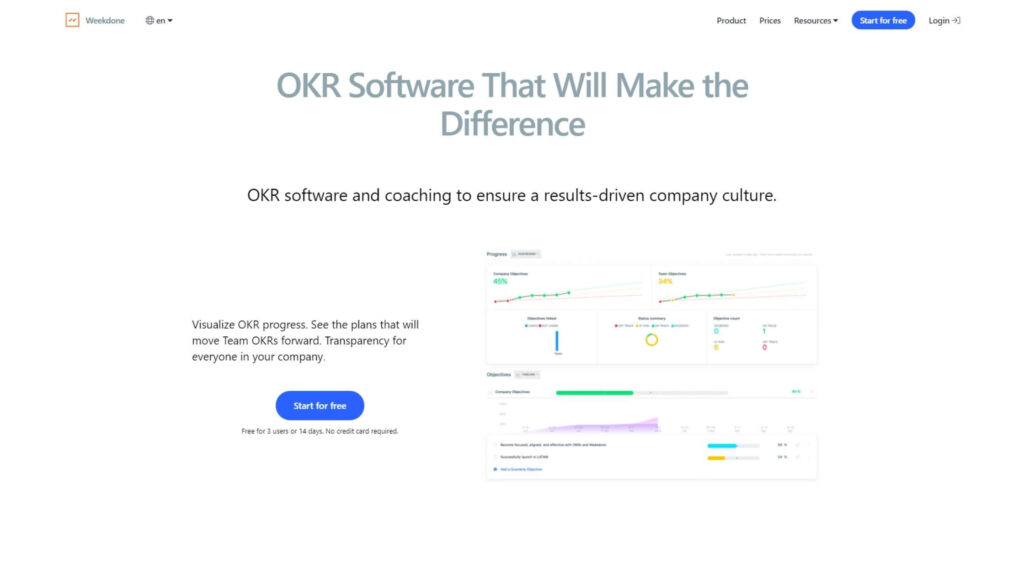 Weekdone is one of the popular OKR software in India that ensures a results-driven company culture. Weekdone is fully aware that 80% of companies fail at successfully using OKR to their benefit for the first time. Therefore, the company has come up with programs, where their OKR coaches work closely with the business leaders and team managers to make OKR become a part of the company culture.
The OKR software enables employees to set plans for the week, which would drive the results that are needed to take the team forward together. Weekdone creates lasting changes in its clients' companies through OKR consulting, training, and execution.
Founder: Juri Kaljundi, Janek Hiis, Veli Veromann
Founded in: 2009
Pricing: $280 billed annually for 31-40 people.
4. Profit.co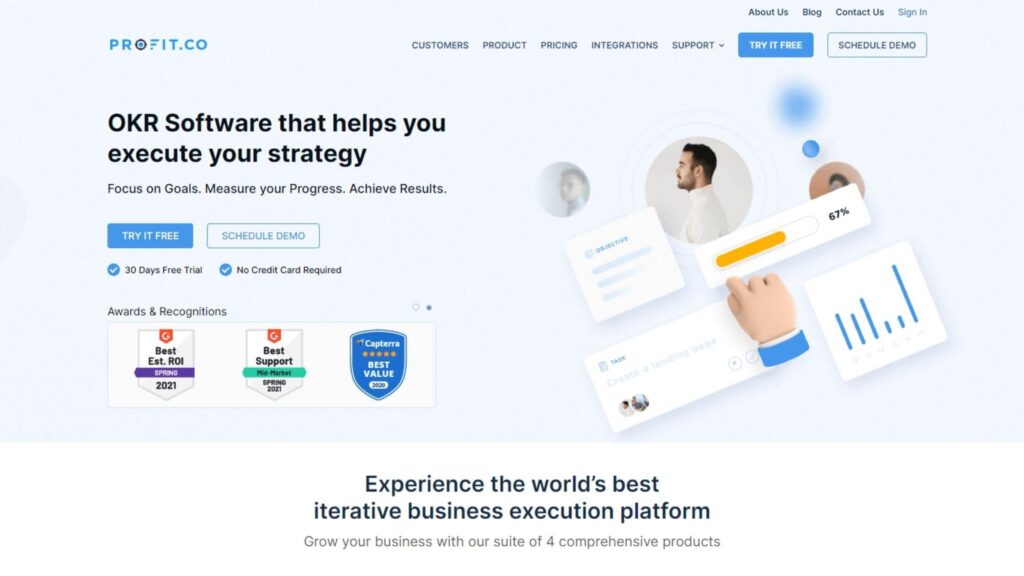 Profit.co's OKR software enhances the employee experience by planning and aligning goals, conducting weekly check-ins to ensure growth, and using many collaborative features to bring the team together. The highly customizable OKR tool helps you to bridge the gap between strategy and execution through agile alignment, faster adaptation, and easier implementation. The OKR software can seamlessly integrate with apps like Jira, Slack, G Suite, Gmail add-on, Office 365, etc.
Their vision is to help companies make data-driven informed decisions and become objective-focused organizations.
Founder: Bastin Gerald
Founded in: 2018
Pricing: $7 per user/month billed annually
5. Gtmhub
Gtmhub is one of the best OKR software in India and globally that brings teams, functions, and business units out of confusion and provides them strategic clarity and direction. The OKR tool helps the employees to stay committed to the work and deliver mission-centric outcomes. The tool is capable of anticipating disruption, realigning strategy, providing actionable insights, just to name a few.
Founder: Ivan Osmak, Jordan Angelov, Radoslav Georglev
Founded in: 2015
Pricing: Different plans for $1, $5, and $12 user/month.
Final Words
Objectives and Key Results (OKR) is a goal-setting methodology that can help any business rebound quickly from any kind of adversity as it keeps the efforts focused on what really matters. Employees are the frontline warriors of any company, and OKR is the guiding light to them.
A small tip: Even if it is one OKR, stick to it until you finish it. Take them seriously to see some real progress. If you cannot achieve it in one year, make it the objective the following year too i.e., till you succeed.
Are you already using OKRs at your company? What's your strategy for success? Comment your thoughts to spread knowledge. Also, do check out my other blogs at www. emileji.com. Have a good day!
FAQ Questions
1. Best OKR software for Startups
Fitbots OKR
Ally.io
Weekdone
Profit.co
Gtmhub
2. What is the difference between KPIs and OKRs?
KPIs are used to evaluate performance over time for an organization, individual, program, project, action, etc. Whereas, OKR is a strategic framework, whereas KPIs are measurements that exist within a framework.
3. Why should we use OKRs?
Let's say you're a manager and you want to help your employees reach their full potential. Traditional performance management is broken. Just like our outdated processes and systems, it's time for performance management to change. This is exactly where you OKRs. OKR is a simple and proven method for achieving work goals. Everyone can benefit from them and it is one of the best strategies to make your goals come true.
4. How do you effectively use OKRs?
Keep your Objectives inspirational.
Make sure your Key Results are Achievable and Measurable.
Have a Scorecard in which you can keep a track of your Key Results.
Always have 3 Objectives and 5 Key Results (Keep it small as possible)
Remember to have both Aspirational and Commit KRs while crafting your OKRs
Latest Blogs