Whether you're trying to collect leads, drive sales, or do something else different entirely, landing pages do what your website can't by honing in on one dedicated conversion goal. Websites distract your visitors with multiple products, services, and offers but landing pages keep your visitors focused on one common goal.
Whenever businesses plan a marketing activity like providing a crash course for the French language or a makeshift free eBook to strengthen their readers' base to generate leads, they create an interactive and attractive landing page to achieve their goals. High converting landing pages help a business to increase its revenue by seamlessly moving the leads to the next level of the sales funnel.
Creating high converting landing pages is not a herculean task but a few strategic ways must be followed to attain the desired outcome.
Here are 5 ways to Supercharge your Landing Page.
1. Clear Unique Selling Proposition (USP)
USPs are what make your company different from your competitors. The USPs should be strong and simple enough for the readers to understand. The readers who have come to your landing page would have been impressed by one of your offerings in the ads. You must make sure that the landing page contains the details of the USP or offerings. Landing pages also play a crucial role in increasing your brand awareness, and so make sure to keep your promises.
No! Do not write paragraphs to explain your USPs.
They have to be crisp, spot-on, and above the fold. The landing pages should not contain huge texts but clear and unequivocal sentences.
Besides, write your headline in such a way that it summarizes the whole content of the landing page in a few words. Yes, that's why copywriting requires a lot of effort. The Unique Selling Proposition is the hook that has the bait, and therefore, create the USPs attractive enough to convert your leads.
2. Engaging Hero Section
Your hero shot is the visual representation of your offer and can help your visitors better understand what it is or what it looks like. For instance, if you are giving away a very informative eBook to the visitors, you will have to create some visual representations like an image or a video or a preview of the eBook to help your audience comprehend the idea in a better way.
The idea is that even the visitors who just wanted to visit the page instead of taking any action might also convert. Furthermore, the landing pages with visual representations keep your audience engaging and make them spend more time on the page. But remember, do not force-fit the images, videos, or illustrations in the landing page; make it blend in naturally as a medium to reinforce the values of your company.
3. Compelling Benefits
An effective headline and hero shot get your customer's attention, while the benefits section tells your prospects why they should click the Call-to-Action (CTA). Many websites and landing pages speak about what they have to offer, what they do, and what they will do. But a very few speaks of how that helps the customer and what value they provide to the leads.
In a nutshell, instead of complimenting your features, emphasize the benefits to the prospects.
You can list the benefits using bullet points or an infographic. The page visitors might not know the benefits of your offering, which you have to explain and highlight on the landing page. That is, when the visitors read the utility of your product, they should say to themselves, "Ah! I can use this like this too. Interesting." What do you think Apple does? They use this strategy to stay a frontrunner in the gadgets market.
You should also put yourself in the shoes of the consumer and think, "What would really impress me? What kind of benefits do I expect from this?"
4. Inspirational Social Proof
Before buying a product online, I go through a lot of reviews to be sure that I'm not scammed and also the product is of good quality. The same goes for choosing a service. And, those reviews and testimonials are the social proofs, and they persuade the audience to convert.
Social proof is the evidence that other people trust this product and are the consumers of this product/service. The visitors, when they see the review by other customers, are convinced that they have come to the right place. In fact, even to choose a restaurant, we go through the comments of people on Swiggy, Zomato, vlogs, etc. Thus, it is very important to place the testimonials given by your clients on the landing pages.
5. Strong Call to Action (CTA)
Your visitors have read the comprehensible content on your landing page. What next? You must make them take action. That is where a CTA comes into play. The Call-to-Action (CTA) fulfills the goal of the prospects as well as the page creators. It is a win-win situation.
But many creators commit a mistake by making their CTA just like any other text. That is totally incorrect way of doing things.
Make your CTA stand out with bright colors, visible fonts and sizing, and placements. This will increase the conversion rates. Do not use more than one CTA because that will distract your audience. Give them one action to focus on.
Here are the top tools to build your Landing Page
Swipe Pages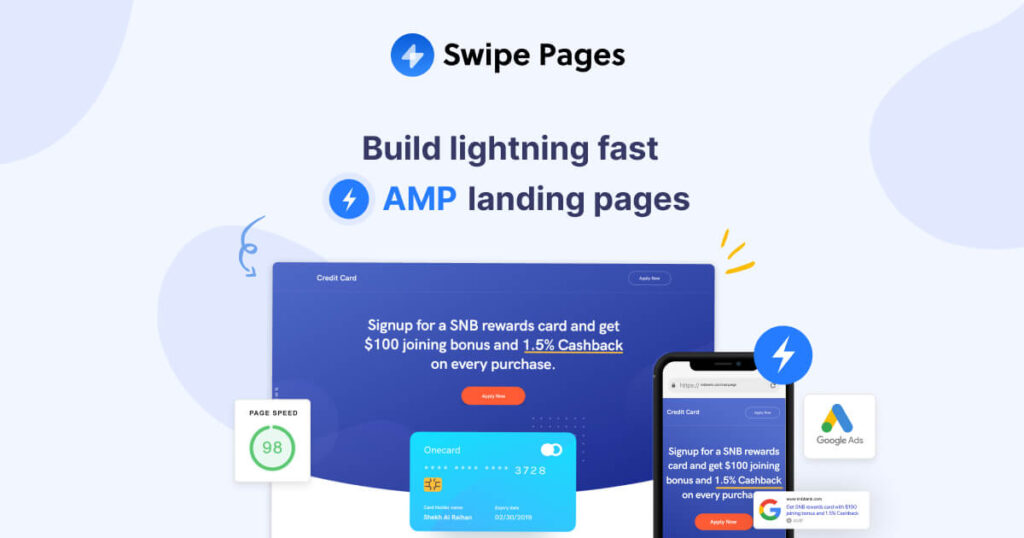 Swipe pages is a no-code landing page builder that helps ROI-driven marketers to create highly converting landing pages. Marketers from non-technical backgrounds find the tool really helpful as they can run their business seamlessly without any disruption. The pages are insanely fast and mobile optimized.
Unbounce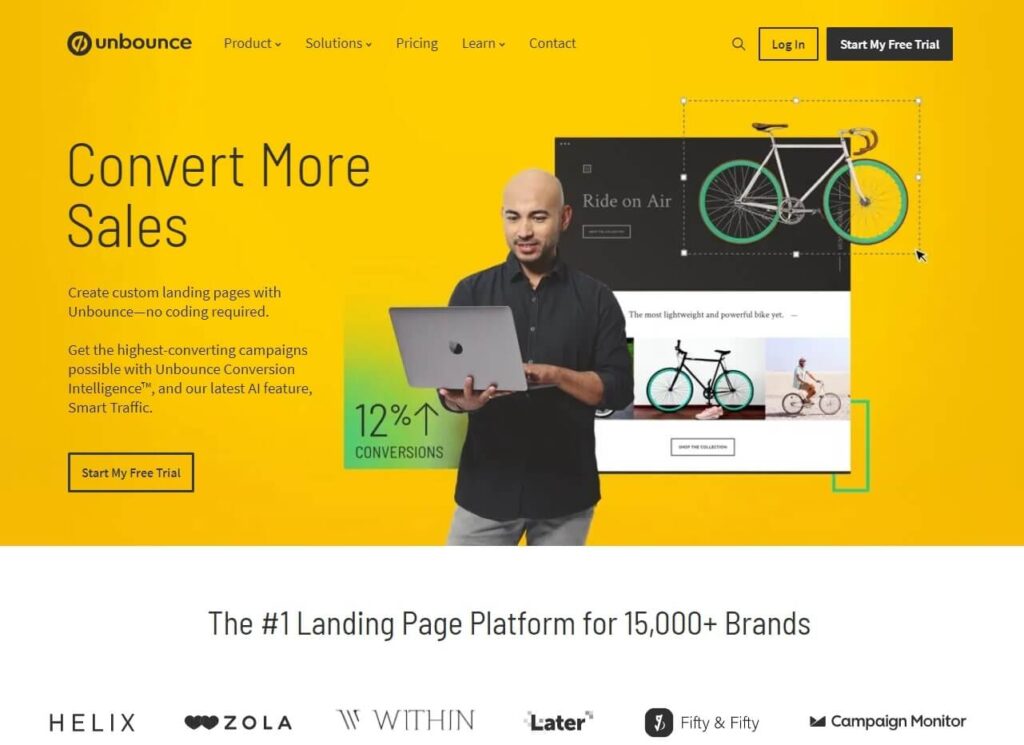 Unbounce provides an easy drag-and-drop builder and a simple all-you-can-eat buffet of 100+ landing page templates, which makes it easier for marketers to create landing pages in a short time without a developer. The customizable pages also give way to A/B testing and experimentation with designs, messages, and other components.
Instapages
Instapages is an advanced landing page building platform, and the customers of Instapages get 400% more from their digital ad spend. To increase your advertising conversion rates, the team provides six products and numerous features. The products include Landing Pages, Personalization, Experimentation, AdMap, Collaboration, and Page Speed.
Lead Pages
Lead Pages provides a platform to create professional landing pages in minutes with its drag and drop feature. The tool aims to make the leads focus on taking that one dedicated action on the landing page and increase the conversions. It provides actionable insights to guess less and grow more. Making informed decisions becomes easier.
Conclusion:
Thus, a landing page is indispensable in this digital marketing era. So, implement the above suggestions and supercharge your landing page to convert more and generate more revenue.
Hope you got some useful information to supercharge your landing page from this blog post. Do share your thoughts in the comment section if you feel that I've missed anything in this post. Would love to hear from you guys!
FAQ Question
How to create single landing page responsive design?
Landing pages can be described as a single page website that push the visitor toward a single action. Their primary goal is to generate leads and the process of converting visitors into leads and buyers is usually accomplished by call-to-action buttons and lead generation forms.
Today it is very easy to build high converting landing pages in a few hours by using these amazing landing page builders such as Swipe Pages, Instapages, Unbounce and LeadPages.
What is the best Landing Page Builder?
Here are my top recommendations for Landing Page Builder:
Swipe Pages
Unbounce
Instapages
Lead Pages
What is a landing page on a website?
I get this question all the time, What's the difference between a landing page and a website? See the only thing you need to understand is what's the purpose of creating a landing page and what's the purpose of creating a website. Both are different from each other. The difference between the both is Focus and the actions that you want the user or visitor to take.
A landing page is solely designed with focus to one objective and a website is designed for the user to explore various different things one has to offer. Landing pages are mostly used for conversion campaigns.
Can we create a landing page for free?
Yes, absolutely you can create a free landing page but it has some limitations to it. If you are just starting out you can use these 5 tools to create a landing page for yourself
Convertkit
Mailchimp
Wix
Hubspot
Google Sites
Check out my Recent Blogs