Artificial Intelligence and Natural Language Processing are entering every field to deliver a more human-like experience. Today, content marketing, which always remained opaque to such advancements, has become no exception. Advanced technology has crept into the field of content and copywriting too. But not as a competitor to writers but as a complementary AI copywriting tool.
Content marketing plays a major role in a company's digital marketing strategy. Imagine you have an email in your content plan but your writer suddenly calls in sick, which has become too frequent due to the prevailing pandemic and terror of viruses. How can you handle such situations?
AI Copywriting Tools can help you overcome that challenge and keep your workflow uninterrupted.
Why Should Someone use an AI Copywriting Tool?
Copywriters: Please don't go! I just had my writer's block.
Customer: Sorry, we understand. But we need our work to be done.
NO MENTAL BLOCKS ANYMORE! Because AI Copywriting Tool is here.
Every writer has emotional or mental situations that cause a block i.e., restrict their creative thinking. As a result, the writers stare at the screen for hours yet with no single word typed. If you are a writer, you can definitely relate to it. It is not your fault. Humans cannot be creative all the time. Sometimes, they need a break.
But businesses do not stop for them.
Not only writers, if you look at digital marketing entrepreneurs, they would have had everything ready to start a marketing business single-handedly but everyone cannot be good at everything. There are many marketing professionals I have come across; they have a great talent for marketing but they need the help of a writer as content is the foundation for the marketing strategies to work. Sometimes, they could not afford to recruit one.
There are many such situations, where an AI copywriting tool comes in handy.
What is an AI Copywriting Tool?
AI copywriting tools can write blogs, product descriptions, ad copies, even social media posts with the help of Artificial Intelligence (AI), Machine Learning (ML), and Natural Language Processing (NLP).
All you need to do is enter what kind of argument you need the AI tool to make. That is, type a brief of the blog post, and within seconds, the AI tool would browse the web and create a chunk of content that is plagiarism-free. What a boon, right?
An AI copywriting tool saves you a lot of time and helps you focus on priority tasks. You need not rack your brain to write for the marketing collateral. So, your efforts are saved. AI copywriting tools are way cheaper and affordable.
BUT….CAUTION
Never kill the goose that lays the golden egg. I know a marketer, who produced every single piece of content with an AI copywriting tool. I will just state the facts. Some of his copies performed really well, and some did not. The reason is originality.
The usual copies that need to build awareness did well, but the content that needs to speak to the target audience failed. AI copywriting tools could not speak to humans and touch their emotions. The tools can only reproduce but there would not be anything new added to its system that feeds on the existing web.
No matter what, if you are a large company, rely on your human resources. Only in case of bulk orders and tight deadlines or expensive situations, it is advisable to go for tools.
Will AI become more advanced in the future and think on its own? Well, we have to wait and see that part. But for now, humans are the topmost intelligence.
Here are the top 5 Effective AI Copywriting tools That Help You Create Killer Content
1. Peppertype.ai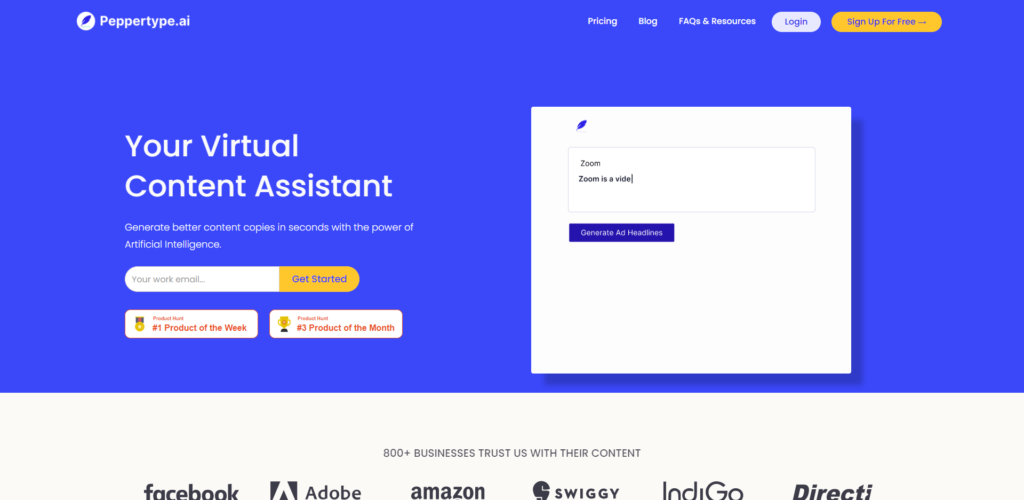 The copywriting tool helps businesses of every industry type and has more than 20,000+ users. Peppertype.ai generates content for more than 30 formats that include blogs, web copy, Quora, social media post captions, SEO optimized meta description, engaging tweet ideas, etc. The support team of Peppertype.ai is very responsive and they take feedback seriously to continually make improvements in the product.
The product is for founders, marketing teams, content creators, agencies, product managers, and SEO folks.
Pricing: $25/month for entrepreneurs and individuals, and freelancers. $165/month for startups.
2. Writesonic
Writesonic's AI knows what copy converts and how to write a copy that the target audience can relate to. When you choose from the category such as landing pages, blogs, or website copy in the main section, the tool will ask you for the topic and the kind of flow you need. Once you type your requirements, the tool will generate a dozen copies that focus on conversion.
The tool can be used to write,
Website copy
Landing page
Digital ads copy
Article or blog content
Product titles, descriptions, features, and ads
Press releases
Company bios
Video copies
Help in AIDA
Pricing: Free trial for new users, $11.25/month for marketers, $40.05 for startups and small businesses, 202.05/month for businesses that need content at scale.
Also Read:- Pabbly connect All in one Automation Tool
3. Copy.ai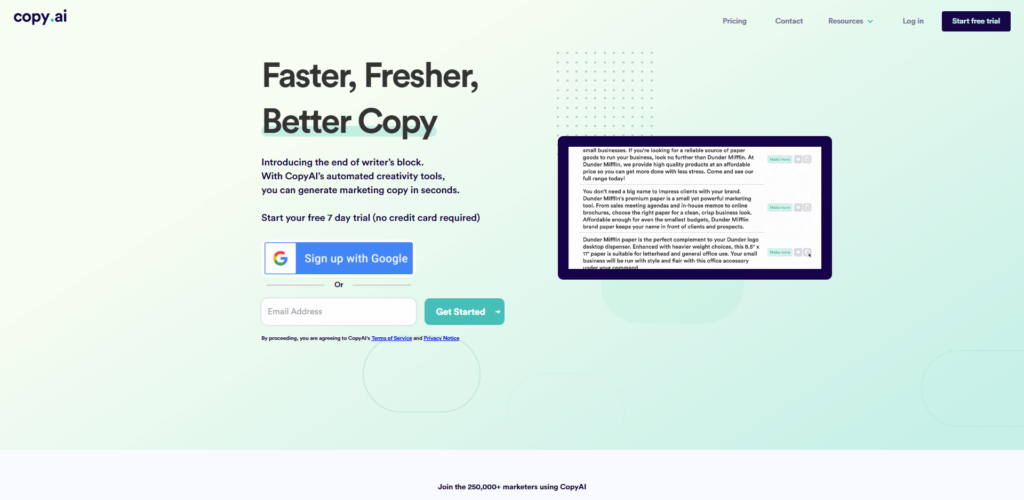 Copy.ai is the most advanced AI language tool that blows minds in the process of content creation. It aims to produce faster, fresher, and better copy that converts prospects into customers and also generates new leads. The AI tool increases the writers' productivity and gets the job done in 30 seconds, irrespective of the workload.
The AI copywriting tool writes digital ad copies, eCommerce copy, and all the content required by a marketer and business in the most creative way.
Pricing: Free trial for testing, $35/month for small businesses, and the support team enters the scene for large companies to provide a customized offer.
4. Headlime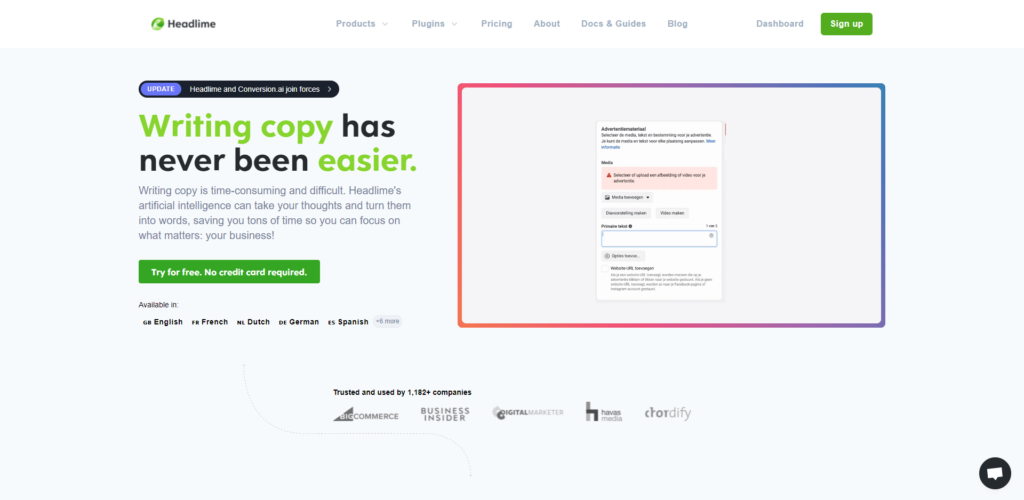 Headlime AI copywriting tool helps to write marketing copies faster and with no plagiarism. Powered by GPT-3 from openAI, the tool writes from Facebook ads, headlines, product descriptions, and even SEO-optimized content.
Also, an interesting fact is that Headlime's landing page, when someone looks up their name on the Internet, was written by their AI copywriting tool. I must agree, it is really difficult to know whether it was written by a machine or a human. You can also access many copies of the same headline you generated using the tool.
Pricing: $59/month for individuals
5. Jarvis.ai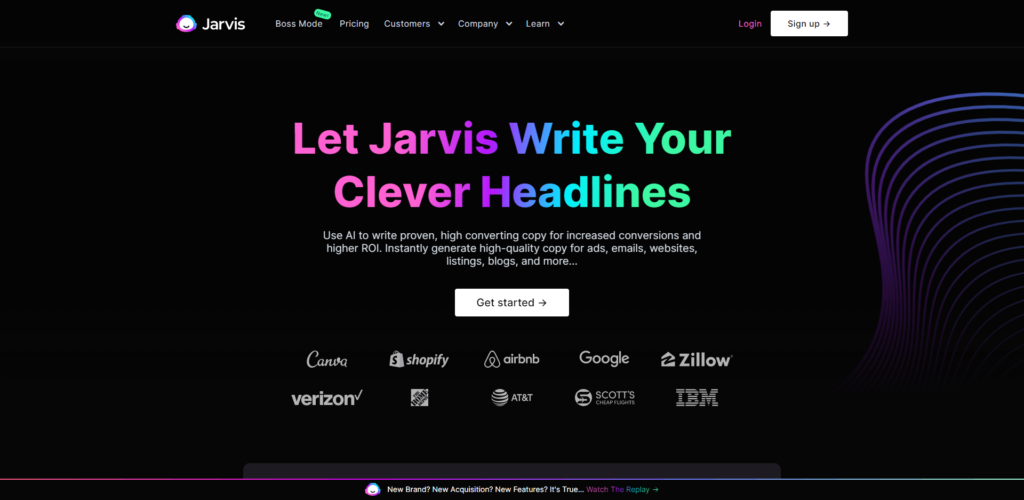 The site, Jarvis.ai, is absolutely captivating with all those testimonials displayed in an unconventional way. The AI copywriting tool is focused on producing highly converting copies to improve customer satisfaction for your business and also give huge returns on investment.
They have 10,000+ users who are marketers, agency owners, and copywriters. One interesting comment says, he has even written a small book using Jarvis, and the tool has delivered excellent quality content for the book.
The tool can produce content in more than 25 different languages and is a mobile-responsive tool that helps users to create content from anywhere and at any time.
Pricing: $29/month for 20,000 words, $109/month for unlimited words, and $119/month for Boss mode.
Conclusion
Use one of the above-mentioned tools. Bang! You can create great copies for your business or client's company. All you have to know is how to use those copies and when to use them. The AI copywriting tools have started revolutionizing the content marketing field. What does it have in store for us in the future? That all depends on unleashing the potential of Artificial Intelligence and Automation tools. For more details check out WWW.EMILEJI.COM