The marketing world has changed a lot. Sending hyper-personalized messages to a large group of people has become a lot easier by dint of email marketing automation tools. Today, despite any business environment, companies are able to keep their leads, existing customers, and new customers engaged, no matter how huge they expand and grow.
I came across an interesting product called Encharge Email Marketing Automation Tool, for Startups and Digital Businesses. Encharge is an effective and easy-to-use tool that helps to increase conversions and generate more revenue. And, it is the first automation marketing tool that easily integrates with the apps you use and creates a cohesive automated workflow to maximize results.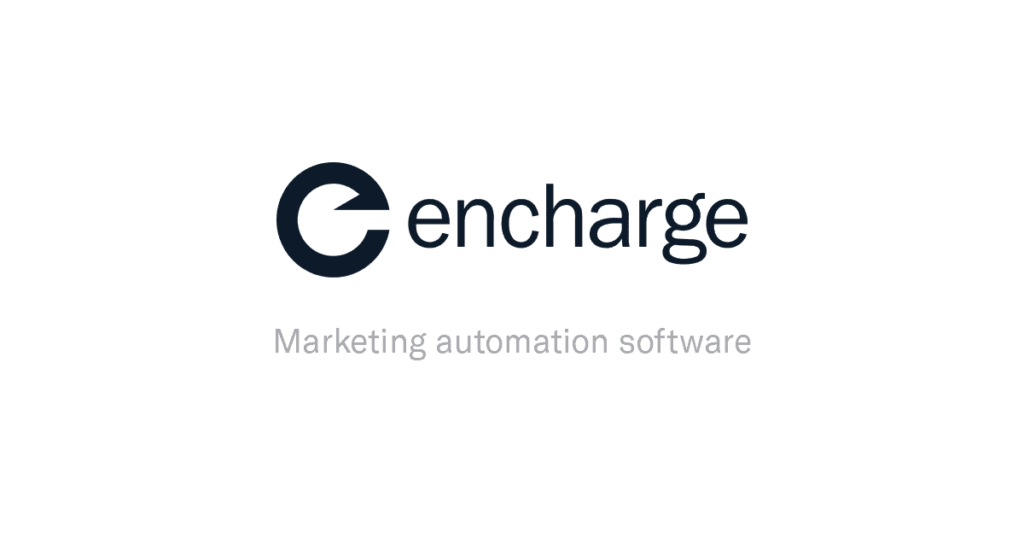 Let's now talk about Encharge in Detail
Why you should use Encharge for Your Business?
Encharge segments users based on their activity on your website, your product, page views, product behaviour, feature use, email activity, and other data from third-party apps. It is a progressive email marketing automation tool that seamlessly leverages prospects' behaviour to provide a premium user experience to your customers and leads.
Aito, the Association of Independent Tour Operators, reduced the time for implementing behavior-based emails from hours to minutes with Encharge. Samdock, a CRM made for small companies, reduced the cost and time spent on acquiring a new customer by 77%. The time spent per new customer has been reduced by 7 hours.
Landbot, a no-code chatbot builder company, lauds Encharge for automating the onboarding for 80,000+ users while saving 320 hours per month and increasing the revenue.
"As someone in marketing operations, I can assure you that Encharge is like having two full-time interns. For me, it saves 3-4 hours daily thanks to the automation. This makes me focus 100% on analyzing the data and growing the marketing area much faster."
-Marketing Operations Analyst, Landbot
My review about Encharge on G2
Key Features of Encharge Email Marketing Automation Tool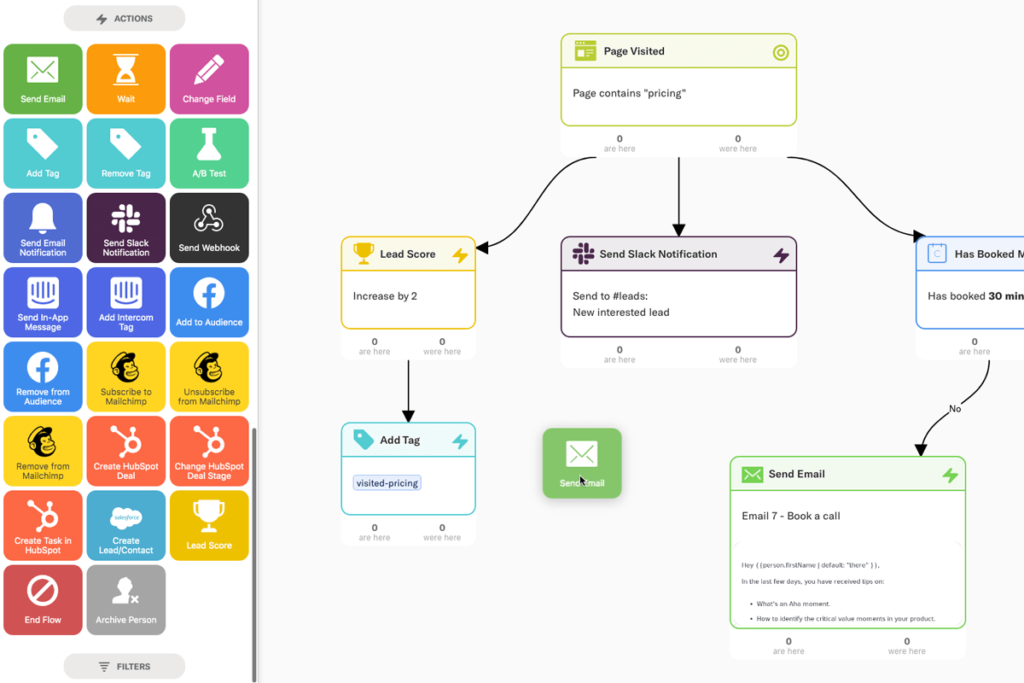 Automate your User Journey
Straining your eyes for a long time is not good for your health. That is why, Encharge wants you to have some 'me' time, while it works in your place. You can send the messages to segmented users or all the customers in a hyper-personalized way even when you are not in front of your laptop. When the user has signed up for your newsletters, the automated email response saying 'thank you will reach them, if you set it that way.
Visual Flow Builder
The drag and drop feature of Encharge makes it easy for all marketers, including non-technical marketers, to create the email workflow. You can design the entire user's journey by connecting the action triggers.
Behaviour-Based Emails Meets Marketing Automation
This awesome marketing tool gets the data of users' activities on the website, product pages, and other channels of the business to segment them and send automated emails accordingly. The customer behavior is very significant to increase brand awareness among the target audience and increase conversions.
A/B Testing
You can experiment with the broadcast emails, workflows, and merge tags and use the methods that create the best results for your company. Marketers experiment and come up with the best strategies only when the tools used are user-friendly and give more inputs.
User Profiles
The user profiles give a lot of actionable insights to your company marketers such as what kind of audience is interested in your product, the actions taken by them, and their needs. This is really a fascinating feature of Encharge that enables the customers to make data-driven informed decisions.
Lead Scoring
Rate your leads and learn who is most likely to convert. These reports help you create an effective workflow that reduces the time spent on non-converting visitors. The lead score feature makes your team perform more efficiently.
Who Can Use Encharge?
The answer is, every business that would like to create a digital impact on its consumers.
Companies can thrive only when their customers can remember them. What happens when you don't communicate regularly with your customers? You will be forgotten and your competitors will take your place. That's heartbreaking, isn't it?
Non-technical marketers, companies that want to communicate consistently with their customers, experts facing difficulties with time management, and professionals who want to increase their productivity can use Encharge. Just a call and everything is done by Encharge team.
Pros and Cons of Encharge
Pros
It hits the sweet spot between mailing list management, marketing automation, and CRM, with enough customization and integration to mix and match with other set ups based on your needs.
All the contacts can be handled in one place seamlessly.
The customers can be reached exactly where they are.
Simple drag and drop interfaces and streamlined broadcasts
There are a vast number of native integrations available in Encharge
The outstanding support team and the tool is available at an affordable cost.
Cons
The UI is not quick and accessible, and so the users should scroll to find things
The multiple items in the flow builder cannot be selected.
No native eCommerce integration and WordPress integration.
CTA button and image insertion in text-based mails need to be included.
Alternatives of Encharge Email Marketing Automation Tool:
ConvertKit

Mailchimp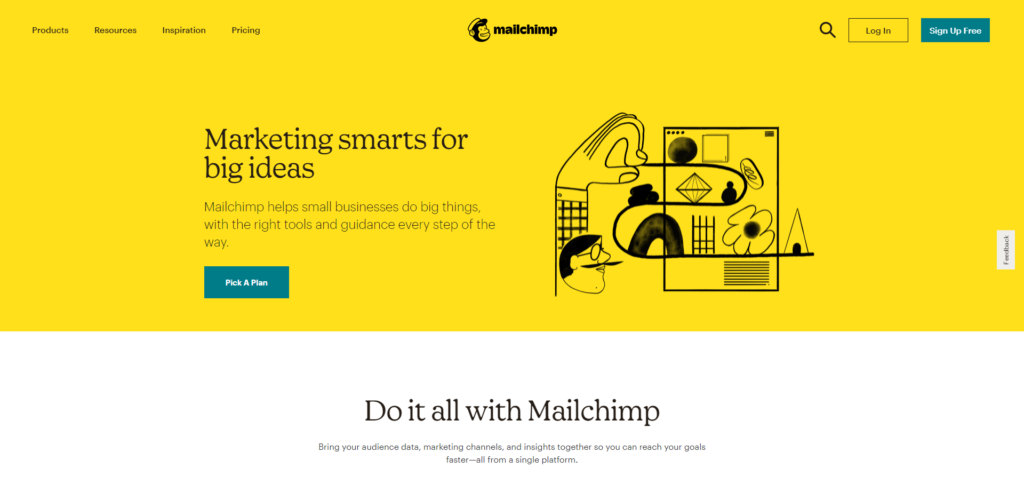 ActiveCampaign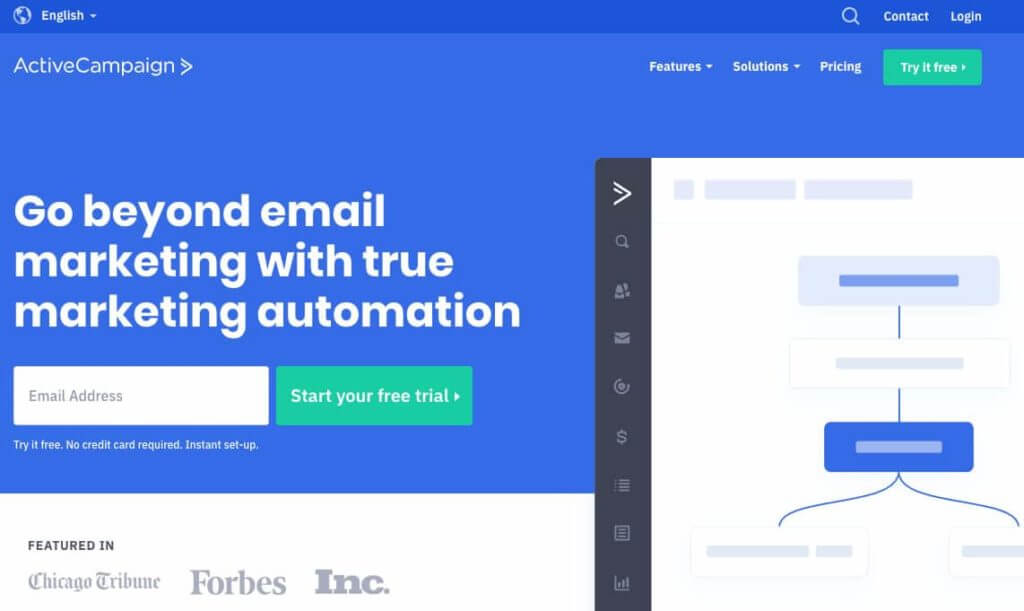 Sendinblue
Conclusion
Encharge software is built impeccably to bridge the communication gap between the companies and their customers, challenging the big names in the email marketing automation industry. Marketers who have troubles with their email marketing tools due to high pricing, not many integrations, a less responsive support team, high level of difficulty in automation should try Encharge, which is one of the best solutions for all the above problems.
Hope you find this blog useful and informative for more information do visit WWW.EMILEJI.COM. Let me know what you think in the comment section below.
Check out my Recent Blogs