What is Digital Marketing? The activities that are done to take a product or a service to the masses. Earlier, the activities used to be doorstep marketing, newspaper marketing, television, live events, etc. But today, with the advancement of technology, another type of marketing has gained momentum. Without Digital Marketing, it is very hard for companies to sustain themselves in this highly competitive business environment.
Understanding the importance of digital marketing among companies and millennials, many institutes have well-crafted digital marketing courses with the best curriculum to attract many students, who prefer the quality of education the most. If you are one of the students or a professional, who is looking for top-class highly informative, structured, and pragmatic digital marketing certifications. I have a few recommendations.
Here are the top 5 Digital Marketing Certifications that don't waste a single penny of yours.
1. Digital Scholar
Digital Scholar is one of the best digital marketing courses in India that have an agency-style approach and prepares its students to be ready for the industry from day one of the certification course. They have both Online and Offline courses that offer around 10+ modules, and each includes a live project, case studies, templates, etc. The program helps you to join and create your own network of like minds to create, share, and discuss strategies. Also, there is placement assistance, which is the one important aspect that every graduate looks for in a digital marketing certification course.
About the Founder: Sorav Jain is an entrepreneur, digital and social media marketer, and consultant with 10+ years of experience in the marketing field. His primary focus is to make every marketing aspirant industry-ready to help India go digital completely and truly.
About the Course:
The program includes both a fundamental digital marketing course and an agency-styled digital marketing certification course, which is advanced learning.
Modules Covered:
Fundamentals of Marketing
Personal Branding
Content Writing
WordPress
SEO
Facebook and Instagram ads
Search Engine Marketing
Email Marketing
Automation
Sales Funnel
LinkedIn Marketing
Social Media Management
Instagram Influencer Mastery
International Freelancing.
Bonus Modules
Copywriting
E-commerce Marketing
Affiliate Marketing
Course Features
15+ modules
Feedback sessions
Lifetime access
24+ certifications
100% placement assistance
Internship with Echovme
15+ tools covered
2. upGrad
upGrad is an online higher education platform that offers a wide range of courses with the best-tailored curriculum, top-notch teaching resources, world-class faculty, placement assistance, and practical learning. They work with the aim of delivering the outcomes that their students desire and being a lifelong learning partner by upskilling and upgrading the skills of the members of the global workforce.
About the Founders:
Mayank Kumar, Co-founder and MD, is an ISB and IIT-Delhi alum with over 10 years of experience in the education industry as an investor and advisor.
Phalgun Kompalli, the Co-founder, is an alum of IIT-Delhi and part of the Forbes 30-under-30 cohort with 7 years of education experience across different geographies.
Ronnie Screwvala, an Indian entrepreneur and amongst 25 Asia's most powerful people by Fortune magazine, is also one of the co-founders and Executive Chairman of upGrad.
About the Course
The digital marketing course offered by upGrad is in-depth learning and one of the best digital marketing certifications in India. The course modules include, Fundamentals of marketing, designing and building a web presence, SEO, Social media marketing, Search Engine Marketing, Display advertising, user nurturing, content marketing, marketing analytics, and integrated strategy, and specialization in branding and communications.
Tracks: Executive track or Management track (You can choose one to have a customized curriculum)
Specializations:
Branding
Social Media and Content Marketing
Marketing Analytics
Marketing Communication – Public Relations
Recommended months of training: 6.5 – 11 months (depending upon the number of specializations your choose)
Features:
MICA Alumni Status
Certifications from MICA and Facebook
15 case studies and live projects
Mock interviews by hiring managers
Personalized resume feedback
Video library with 38 tools
3. Digital Vidya
Digital Vidya, with 11 years of excellence, works to impart new-age skills to individuals and organizations. The certifications offered by Digital Vidya are also one of the leading digital marketing certifications in India, and the program provides options to choose classroom training or online training. Digital Vidya is the official training partner of Google and Microsoft and also has partnerships with Facebook, LinkedIn, NASSCOM, and Vskills.
About the Founder
Pradeep Chopra is a graduate of IIT Delhi and a recipient of Adobe Content100. He is one of the most sought-after international speakers in Digital Marketing and Entrepreneurship.
Kapil Nakra is a graduate of IIT Delhi, who has co-founded 3 ventures in the last 18 years.
About the Course Modules:
Search Engine Optimization (SEO)
Search Engine Marketing (SEM/ Google Adwords)
Social Media Marketing (SMM)
Email Marketing
Inbound Marketing
Web Analytics
Facebook Marketing
Course Features
44+ modules
2 internships
100+ hours
4. Simplilearn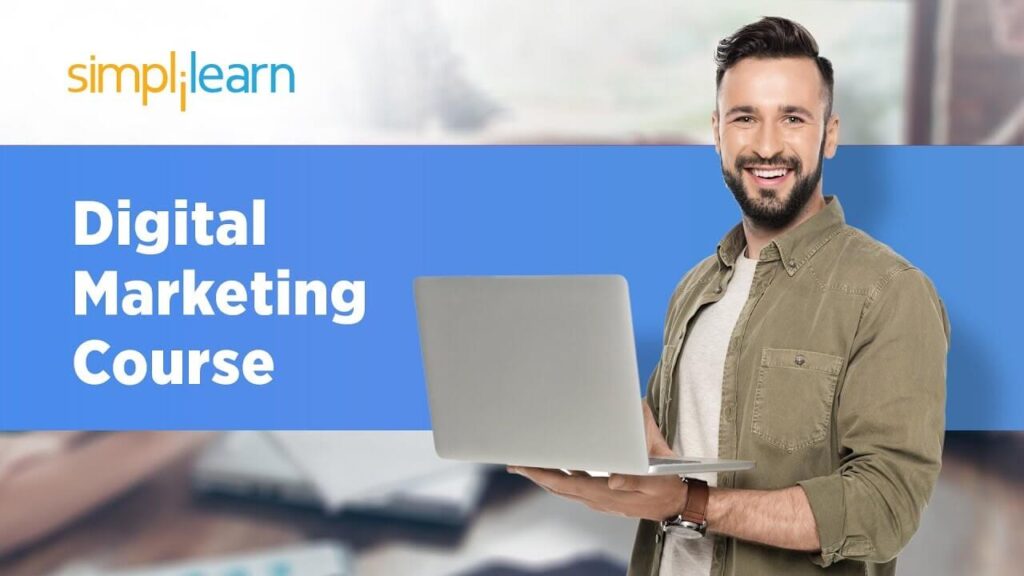 Simplilearn is one of the world's leading providers of online training for Digital Marketing. They offer best-in-class Digital Marketing certifications and have partnered with global leaders like Microsoft, Bing Ads, Hootsuite, Hubspot, OMCP, etc. They strongly reckon that in a world, where life has gone digital, marketing has to follow. And, digital marketing has greater importance.
Courses Offered
There are two tracks, Digital marketing Associate and Digital Marketing Specialist.
The Digital Marketing Associate program includes,
Digital marketing 101
Mastering SEO, content marketing, PPC, and digital analytics
Mastering social media, mobile marketing, and digital strategy
HubSpot Email Marketing Certification Training
Digital Marketing Capstone
The Digital Marketing Specialist program includes,
Mastering SEO, content marketing, PPC and digital analytics
Mastering social media, mobile marketing, and digital strategy
Advanced web analytics
Advanced Search Engine Optimization (SEO)
Advanced Pay Per Click (PPC) program
Advanced social media (with Facebook Blueprint Voucher)
5. EduPristine
EduPristine has framed a world-class digital marketing certification course that includes a 150+ hours program covering 35 modules and taught by digital marketing industry experts. And the interesting part is, you get to have 40+ hours of hands-on experience on digital marketing tools. Aren't you excited? The curriculum is a well-planned one with all the basic and major topics covered.
Course Features
35 Modules
100+ hours of classroom training
15+ certificates
50+ hours of digital library
Placement assistance
Conclusion
Hope you got some relevant information from this blog. Go through the above-mentioned best digital marketing certification courses and their curriculum and choose the one that suits your aspirations and future goals. But when it comes to digital marketing, upgrading yourself now and then is very important as it is an ever-changing dynamic industry.
FAQ Questions
What are the certificates do I need to become a Digital Marketer?
Google Ads Certification
Facebook Certification
Hubspot Certifications
SEO Certifications
Email Marketing Certification
Social Media Management Certification
Which institute is the best for Digital Marketing?
Digital Scholar
upGrad
Digital Vidya
Simplilearn
EduPristine
Can I learn Digital Marketing for Free?
Yes, you can definitely learn digital marketing theories on your own and that too for free as there are courses available on YouTube, Coursera and Udemy. But the only problem is, theoretical and practical learning experiences are not the same.
Which is the best offline digital marketing course?
Digital Scholar is one of the best Offline Digital Marketing Certifications Course that can be done by any student or professional who is looking to get his/her hands dirty in the field of Digital Marketing. They make use of real-life, contemporary case studies to further illustrate its core concepts. Learning by example is an excellent way to master digital marketing. During the course, they guarantee a realistic agency-style experience for you by presenting internship opportunities with digital agencies.
Recent Blogs